STOCKISTS
CANADA
328 James St N, Hamilton ON
905-525-7974
FRANCE
13 Rue Cavenne, Lyon FR 69007
+33 4 72 94 52 99
14 Rue Des Filles Du Calvaire, Paris FR 75003
+33 4 72 94 52 99
AUSTRALIA
Online Store
03 9670 6225
UNITED STATES
45 Grand Ave., Oakland, CA 94612
(510)960-0655
115 Sandra Muraida Way, STE 105B
Austin, TX 78703
(512)401-3162
8970 Kingsridge Dr., Dayton, Oh 45448
(937)424-8840
Online Store
FEATURED STOCKISTS


Hamilton, Canada
328 James St N, Hamilton ON
Interview with Danielle Nicholls
Can you tell us a little bit about Synonym?
My business partner and I took over Synonym in August (yes, in the middle of all this craziness). The previous owners had wanted to sell for quite sometime. We discussed it in February - before the first lockdown happened. We didn't know how bad it would get, but then it got
bad
. Luckily we hadn't signed anything yet. We held off until the summer when things seemed a bit more optimistic.
It's a cozy coffee shop on James Street North in Hamilton set in an old gallery space. We kept a lot of what the previous owners had built but expanded the drink selection and food options. We wanted to operate as a wine bar - which will happen when things are back to "normal." Right now, we have a nice selection of independent books/magazines, local beer, natural wine (to drink here or takeaway) and a small all-day menu that changes seasonally.
Toronto is a big city, where is Hamilton in relation?
For the longest time people referred to Hamilton as the "arm-pit" of Ontario. It's industrial, a bit rough around the edges. It's a 45-minute drive west of Toronto on Lake Ontario (in between Toronto and our "wine country" - Niagara). However, now, a lot of people refer to it as the Canadian "Brooklyn." There's a lot of young energy here - it's a hub for creative industries; art galleries, independent theatres, film. They're actually building Canada's largest film studio here next year. In the next 5 years, Hamilton will look a lot different.
How important is community to Synonym?
What is a coffee shop without its community? There is so much joy in knowing someone's name, coffee order and sharing a bit of their day with them. Just those few minutes of interaction have really made this year more bearable and a little less lonely. Our community is incredible - so many different kinds of people visit us from the people across the street at the Mission, to our neighbours who own floral shops, barbershops, restaurants; to artists, actors, musicians, construction workers etc. Our neighbourhood has really come together through this time: offering late night shopping, doing donation drives for the Mission, helping with street permits and the like.
The food industry has been hit bad with the pandemic, how have you guys been faring?
This industry is the 4th largest employer in Canada and we've never seen anything this detrimental hit us. It's been really tough. It's forced us to be really creative and think outside the box by offering unique dinner kits, new takeaway and delivery options, online shopping, merchandise. Carrying niche books and magazines also helps.
SYNONYM is a neighborhood wine bar, bottle shop, café and bookshop that celebrates art, community & culture.
A portion of LONG DISTANCE sales from SYNONYM will go to Mission Services to help provide meals and shelter for the homeless.
Photographs by Brandon Titaro
Oakland, United States
45 Grand Ave., Oakland CA

Interview with Victor Diaz
Can you tell us a little bit about Renegade Running?
The idea for Renegade Running came out of the lack of representation of people of color in the running industry in general and in the Bay Area running community specifically. There's also a growing number of great running brands and products that were not being sold anywhere in the Bay Area—we wanted to bring them to Oakland. Finally, we wanted to create a physical space where runners from all backgrounds can come together, learn, celebrate, train and prepare for their first or BQ qualifying marathon.
Renegade Running is emblematic of our city (Oakland) and the renegade runners in our community. A "Renegade" is someone who is challenging traditional conventions, going against the grain towards a bigger purpose, and the store was founded on that spirit, too. As founders, we're both competitive runners, men of color, with previous experience in public education, community organizing, and activism.
How important is Oakland and community to RR?
Oakland is a beautiful city that is diverse ethnically, socially, and politically. Oakland is also the birthplace of the Black Panther Party, a movement that built itself around self-reliance and coming together to solve their own problems with and for the community.
However, many folks from underrepresented communities did not have a running store or space where we could together and celebrate the love and pain that comes from running. The most important part of being in Oakland is that it's a community with a rich history of activism and that pushes us to think more deeply and holistically about our running community. These are the principles that the store is based on.
We're here to serve the community, partnering with other BIPOC-owned companies, partnering with nonprofits that serve immigrants and undocumented workers, raising money for Oakland youth sports, and opening up our space to offer free resources and training tools.
What are your thoughts on diversity in running?
Prior to the Black Lives Matter national call for change, diversity in running was non-existent. There was predominantly one voice, one narrative, from both sides of the house: from the manufacturing and wholesale side to the retail and media side. These were predominantly white-owned entities that made products for the white runner.
To a large extent, Black, Brown and Asian people have been either omitted entirely or given token positions that don't have real influence or power. Following Black Lives Matter, the running industry was forced to examine itself, especially in relationship to Ahmaud Arbery, who was literally out for a run when his life was taken. What feels disingenuous is when companies seem to be putting more people of color in their ads and social media without fundamentally changing or shifting how they operate or examining how they got there in the first place.
Conversely, run clubs and crews have been operating around the country and in many big cities around the world that ARE diverse, many of which address social issues in their community, and they've done so with very little support from the running industry. The running industry doesn't come in and support these crews unless or until they are brandable to give the appearance of the company's collaboration for social impact.
My hope is that there will be more people invited into the conversation that have different experiences or that come from different backgrounds. I hope that some of the major running and shoe companies with the most influence will bring on people with more diverse backgrounds and that they'll do so with the intentions of making real change both within their corporate environments and how they appear in the community.
You guys are a fairly new store. How have you guys been faring with the pandemic?
We opened our doors on June 15, 2019, just a few months into the pandemic. It's been hard because of the economic uncertainty and the growing tension between those following public health rules and those that defy them.
However, the local community has been super supportive and the local businesses have been amazing. The running community has really held us up by coming out to our events, safely, shopping with us, and helping us support our local efforts.
I also have to shout out the incredible brands who have helped us raise our profile: District Vision, Satisfy, Unsanctioned, and Reigning Champ. They've taken a chance on us, promoted us in their social media, and helped us raise our identity beyond just the local area. We are forever grateful to them.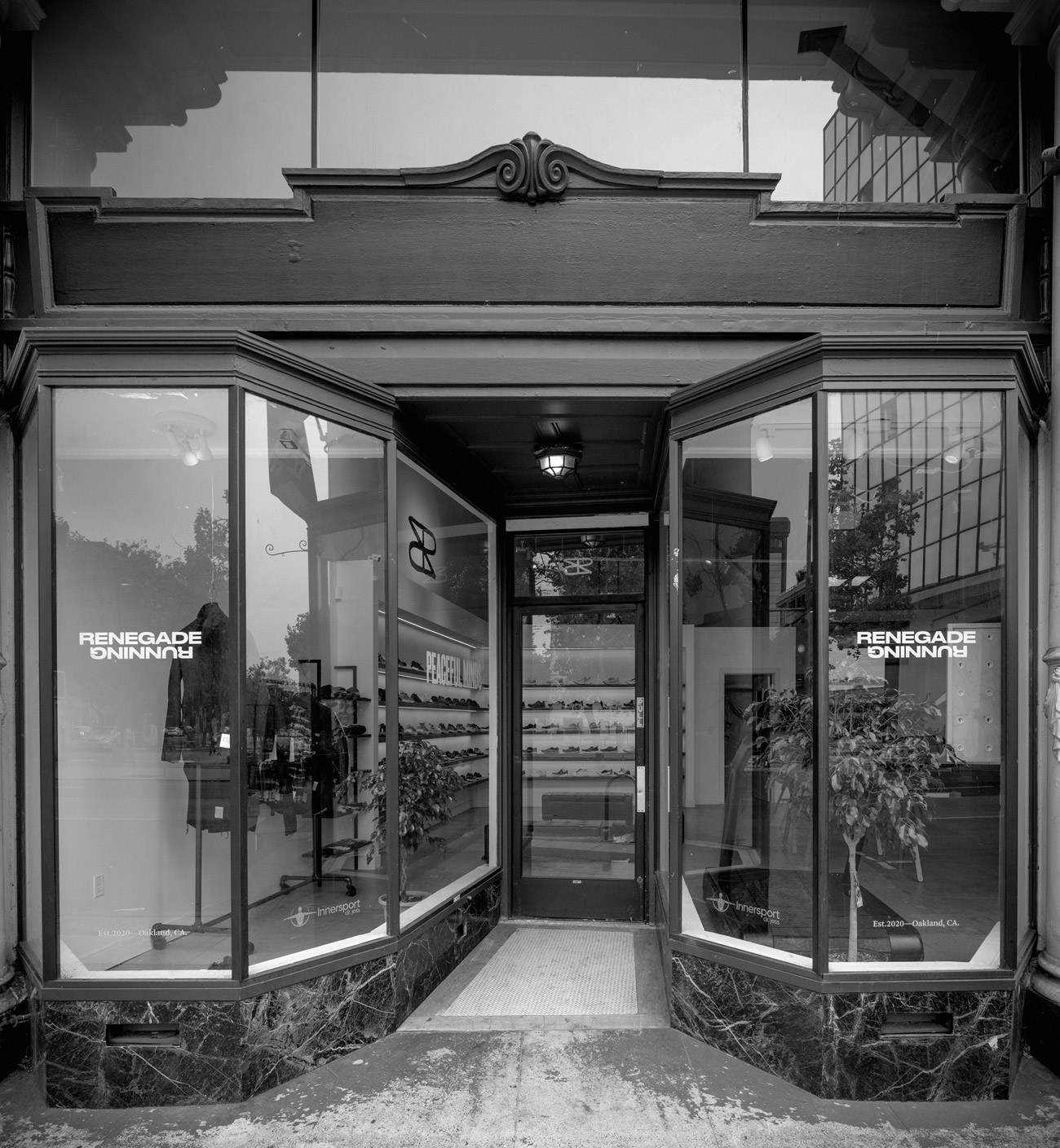 RENEGADE RUNNING is a retail store and community of runners in Oakland, California combining a curated collection of running shoes and apparel with training support and community programming, they strive to make running an inclusive experience for all across race, age, gender, and physical ability.
A portion of LONG DISTANCE sales from RENEGADE RUNNING will go to Collective Action for Laborers, Migrants, and Asylum Seekers (CALMA) to provide support to families and individuals marginalized due to their immigration status both locally and at the US / Mexico border.
Photographs courtesy of Renegade Running